POLYAIGOS – KLEFTIKO
A DAILY EXCURSION OF APPROXIMATELY 45 NAUTICAL MILES AROUND THE ISLAND, MAKING SHORT STOPS TO EVEN MORE SPOTS OF INTEREST, INCLUDING THE ISLAND OF POLYAIGOS
DURATION APPROXIMATELY 10 HOURS – PRICE per person from € 120,00
ROUTE 2Β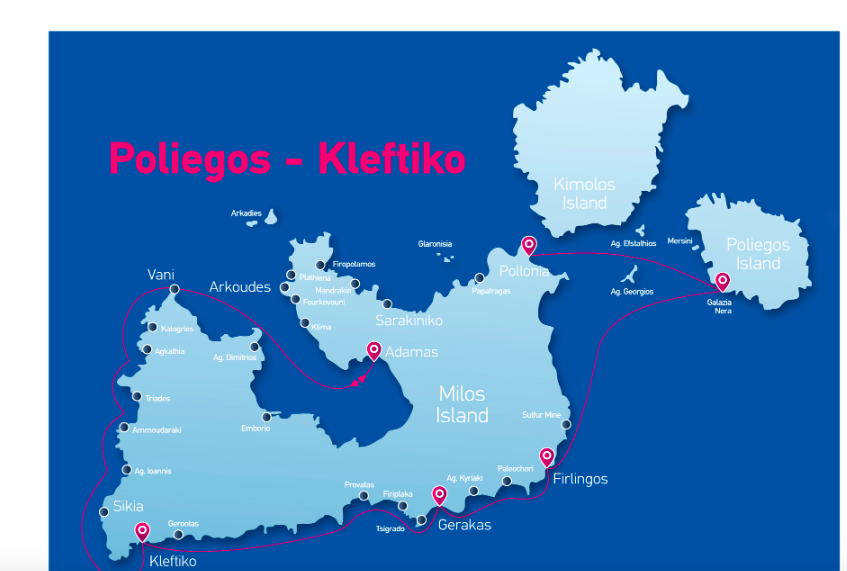 INCLUDED: Snacks, beverages,drinks, cool water, lunch
(according to your eating habits vegan, vegetarian, gluten free etc.), fruit, ice cream.
The program is subject to amendment depending on weather conditions and at the discretion of the captain.
Our meeting point is at Adamas port at 09:00 a.m. With our van we continue for Pollonia. There is the catamaran and from there we start our beautiful cruise. First stop is the amazing Polyaigos. You can enjoy swimming in the clear blue waters that will remind you of an endless pool. We continue to sail on the east coastline of Milos meeting Thiorychia and heading to the colorful coast of Firligos, with one more stop for swimming in the amazing blue waters. We now sail on the South side of the island passing by Paleochori and Agia Kiriaki to reach the inaccessible beach of Gerakas, also called Sand slides for one more dive. We now head to Kleftiko. We travel straight to the pirate's burial with its numerous caves. Then, we set off for a tour of the amazing beaches of the west of Milos (Sykia, Agios Ioannis, Triades, Agathia). As we continue, we will have the pleasure of admiring "Arkoudes", a complex of volcanic rocks that form a bear. Sailing across the coastline, we see the traditional fishermen's villages of Skinopi, Klima, Areti and Fourkovouni with the colorful little houses called "sirmata"- built by the sea side, ending our tour at the port of Adamas.