PRIVATE DAILY CHARTERS
WE PROVIDE YOU WITH CATAMARAN YACHT FOR DAILY CHARTERS ADJUSTING RIDES ACCORDING TO YOUR OWN PREFERANCE AND DEMANDS
DAILY DURATION – PRICE FROM € 1.860,00
ROUTE 5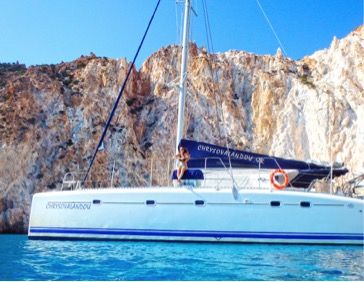 INCLUDED: Snacks, beverages,drinks, cool water, lunch
(according to your eating habits vegan, vegetarian, gluten free etc.), fruit, ice cream.
The program is subject to amendment depending on weather conditions and at the discretion of the captain.
Enjoy a wonderful day around the coast of Milos. Book one of catamaran yacht for a private daily cruise and live the experience of a sailing adventure with your friends and loved ones. A perfect choice for couples, families and groups of 10 people. Our experienced sailing team is ready and willing to help you organize a unique daily cruise adjusted to your wishes and demands.