Archaeological & Cultural Experience
«Initiate the history, local culture and the traditions of Milos»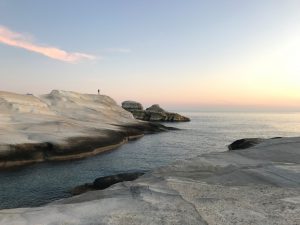 Semi Private Half Day (09:00am – 14:00pm) Road Trip – Price: € 70,00 per person / € 35,00 per kid less than 5 years old.
Semi Private Full Day (10:00am – 17:00pm) Road Trip – Price: € 100,00 per person / € 50,00 per kid less than 5 years old.
Private Half Day Road Trip (5 hours) – Price: up to 4 people € 240,00 + € 50,00 per extra person.
Private Full Day Road Trip (7 hours) – Price: up to 4 people € 320,00 + € 80,00 per extra person.
Half DayTour
the ANCIENT THEATRE of Milos: located on the east side of the narrow entrance of the gulf of Milos, among the modern villages of Tripiti and Klima, looking down to the largest natural port of the Mediterranean.
the area where the statue VEVUS of MILOS was discovered: now grace the museum of Louvre in Paris France.
the CATACOMBS of Milos: the second most remarkable Prechristianic monument worldwide, following those of Rome, because of which Milos was proclaimed a Holy Island in 2014 making it a World Pilgrimage Centre and enforcing the image of our country as a focus of global, spiritual radiance.
KLIMA: a scenic fisherman's village with the colorful "SYRMATA" beside the light green of the sea.
PLAKA the capital of Milos (FOLKLORE and ARCHAEOLOGICAL MUSEUM): learn about the History and the traditional life of the island, as well as a walk around the narrow streets of the village with numerous little shops, ending at MARMARA, the yard of the church of Panagia Korfiatissa, enjoying the majestic view from the most amazing spot for taking photos on the island.
MANDRAKIA: a scenic fisherman's village with 2 little docks that host Milos typical "Syrmata", with the colorful door caves – where fishermen kept their boats in the winter, on the sea.
SARAKINIKO: the famous beach with the white volcanic rocks sculpted by the time.
Plus for Full Day Tour
ALOGOMANDRA: a small beautiful beach on the north side of the island.
the prehistoric city of FYLAKOPI: is the most important city of the prehistoric Aegean Sea, where there are signs of people living there from the early days of the Bronze Age (around 3.000 B.C.).
the VINEYARD and WINERY of the island: discover all the stages of wine production as well as the promise of the oenologist for a trip of tasting the selected wines of Milos
POLLONIA, a small traditional village: the most well known tourist destination of the island, which attracts tourist boats and connects Milos with Kimolos.
Includes
by luxurious VAN or SUV – 4X4 vehicle,
pick up / drop off,
guide – fuel,
snacks – mini bar with soft drinks and water,
refreshing towel,
maps – information,
child car seat.
Not Includes
There are options with extra charge at POLLONIA village,
Entrance to museums and archaeological sights, entrance and tasting at a winery (optional).