THE EXPERIENCE OF EXPLORING THE WEST SIDE OF MILOS
VISIT THE UNEXPLORED WEST SIDE OF MILOS AND THE ISOLATED BEACHES OF THE ISLAND
DURATION 10:00am-17:00pm – PRICE per person from € 110,00
WHAT΄S ΙNCLUDED: Tour by luxurious 7 seat SUV – 4X4 vehicle, pick up / drop off, guide – fuel, snack – mini bar with soft drinks and water, maps – information, child car seat.
NOT INCLUDED: lunch, gratuities (optional).
TOUR 2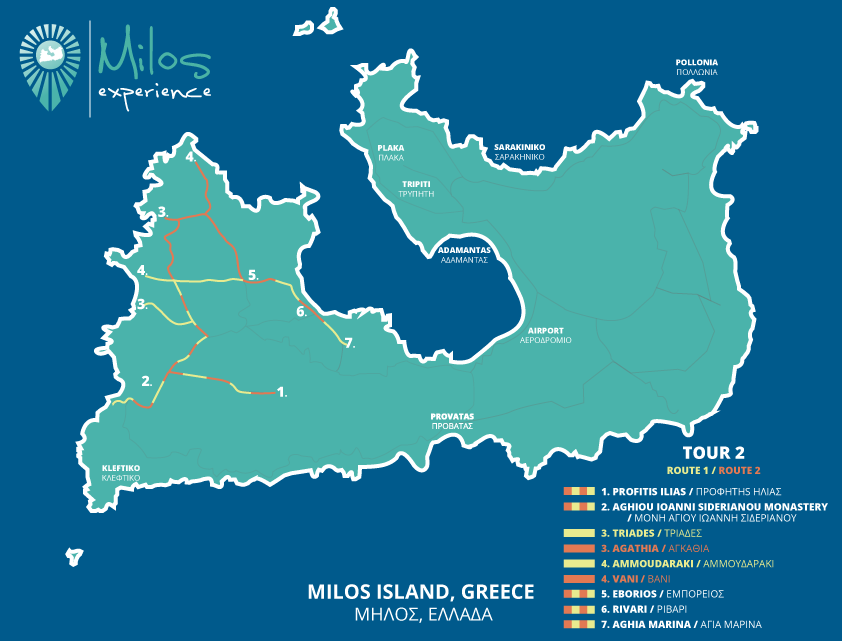 Our tour involves the west side of Milos and the surrounding area of Halakas that are included in the NATURA 2000 net of areas of the European Union which protects the rich flora and fauna of the island. As a start, we visit the highest peak of the island at 748 meters above sea level where the chapel of PROFITIS ILIAS is located. The irresistible view pays us off as the whole island is at our feet making it one of the most impressive spots for taking photos. Later we head to the MONASTERY OF AGIOS IOANNIS SIDERIANOS where according to documents it was built in 1582 and with many stories written about its history and the miracles of Agios Ioannis. The beach named after the monastery is golden and awaits us to enjoy the crystal water. According to weather conditions and the judgment of our guide, the tour continues either to the beach of AMMOUDARAKI, with its typical transparent water and TRIADES, a complex of three beaches with a blonde beach across the sunset, OR the beach of AGATHIA, with shallow blue water and a wide beach and the CAPE of VANI on the northern spot of west Milos where we meet the ruins of a deserted manganese mine from 1920. Moments of relaxation follow to enjoy a traditional lunch from Milos at EMPOURIOS, a scenic seaside village inside the bay and across the port of Adamas. Our tours ends with a short visit to RIVARI, a natural lagoon which is a refuge for travelling birds as well as the MONASTERY of AGIA MARINA, a beautiful location on a hill that offers a wonderful view of the gulf of the island and the entrance of the port.