GEOLOGICAL AND VOLCANIC – MORNING HALF DAY EXPERIENCE
DISCOVER THE VOLCANIC SIDE OF MILOS, THE UNIQUE MINERAL WEALTH AND THE COLOURS THAT CHARACTERIZE IT
DURATION 09:00am-14:00pm– PRICE per person from € 55,00
WHAT΄S ΙNCLUDED: Tour by luxurious 7 seat SUV – 4X4 vehicle, pick up / drop off, guide – fuel, snack – mini bar with soft drinks and water, maps – information, child car seat.
NOT INCLUDED: Gratuities (optional).
TOUR 3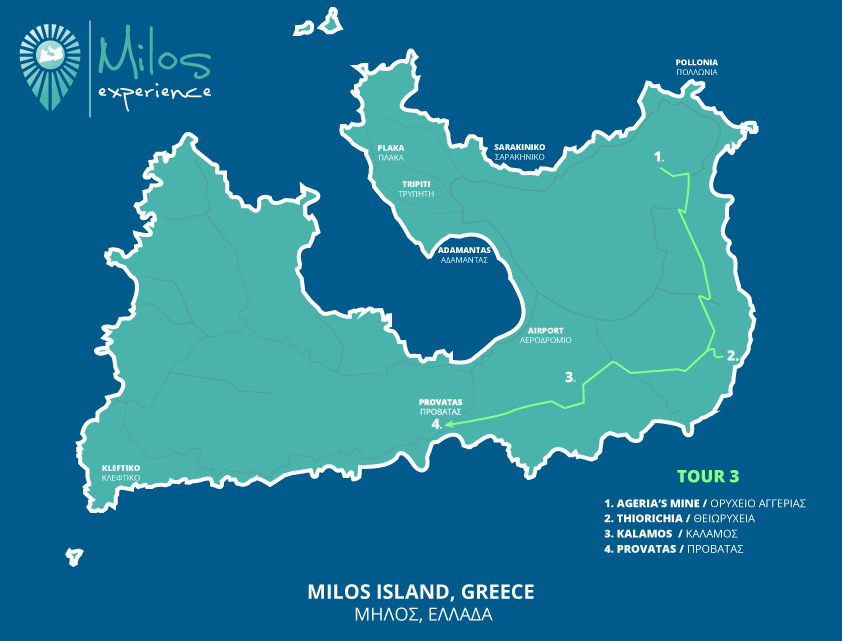 Our tour starts from the MINE of AGGERIA on the Northeast side of Milos, with aspects that amaze the visitor such as its size and the variety of colors that alternate on the subsoil. Later, we pass by the village of ZEFYRIA where the Holy Temple of Panagia Portiani stands out, the old capital of the island, and we head east to the area of Paliorema or THEIORICHIA. We will there see the ruins of the Sulfur Mining Plant which could be characterized as an outdoor museum because even today there are still rusty wagons on their rails, mining tunnels, deserted offices, tools and private items of the workers that take us back to the year of 1960 when the plant ended its operations. The majestic scenery can be ideally combined by swimming in the clear water of the beach with the yellowish pebbles colored by the sulfur and the wonderful backround of one of the greatest sights of the history of the island. Right after, our tour continues at the south part of Milos, the area of KALAMOS and the inactive volcano which last erupted about 90.000 years ago and nowadays steams out through cracks on the ground visible from a distance with an intense smell of sulfur, and an amazing view of the beach of Agia Kiriaki and the largest part of the island. Our excursion ends at the beach of PROVATAS, one of the most picturesque areas of the island, a spot where you can board the catamaran type of boat called "CHRYSOVALANTOU" for those who wish to end their day on board admiring the sunset.